TOP>ABOUT US
We define all Brands as Social
Yuit – a company that believes careful consideration leads
to the conception of ideas Strategy & Design for a New Society
Up until now, there has been a multitude of Brands.
In the wilderness of the business world, Brands appear and disappear overnight.
Some are realized, while others never see the light of day.
What determines this? It is Yuit's mission to ascertain the innate possibilities that
lie within the indeterminate form of Brands.
In this endeavor, outdated stereotypes must be transcended, unnecessary
preconceptions dispensed with and pre-established harmony must be broken
through. An earnest look at the true nature of things should be taken and
a good eye for what has value should be nurtured.
This is Yuit's principle and approach to Branding.
Yuit believes that Brands with true potential lie within the structure of Society
(communities). Society is an important consideration when setting about designing
a Brand. The corporations and universities Yuit has handled up until now are all
highly socially aware. They believe in organically integrating business and academia
with society. Working with such people has enabled us at Yuit to heighten our
awareness towards Society as well.
Creativity and Branding are all linked to Social Design.
Creating a Brand is in turn connected to Society. With this in mind,
Yuit will continue to strive in its pursuit of careful consideration that
leads to the conception of new ideas.
Strategy & Design for a New Society – transcending regions, cities and national borders, we will continue to search for new connections. That is Yuit's mission.
Joining the dots. Joining. Extending.
New bonds create new value.


Seeing the big picture and shaking free of fixed ideas.
By joining dot (possibility) to dot (needs) through strategy, design and communication,
new lines (value) can be created. With its branding and design skills,
Yuit aims for the highest value and development,
and can create new and deeper developments.
Corporate Profile
Corporate name

Yuit Inc.
Date of establishment

2007
President

Sachiko Miyashita
Capital stock

10 million yen
Location

Yunoki Terrace, 9-24, Haraikata-machi, Shinjuku-ku,Tokyo 162-0841 Japan
Tel: 03-6805-1390
Fax: 03-6805-1395
Description of
Business

Branding Activities

Marketing Strategy

Design Development

 -Graphics

 -Environment

 - Internet, etc.

Product Brand Development

PR Activities
Support organization / company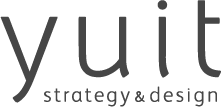 Yuit Inc.Yunoki Terrace, 9-24, Haraikata-machi, Shinjuku-ku,Tokyo 162-0841 Japan
Tel: 03-6805-1390
Fax: 03-6805-1395